Rapper Young Dolph Shot and Killed In His Hometown Memphis 2021 (Live)
Rapper Young Dolph was shot and killed Wednesday at a cookie shop in his hometown of Memphis, Tennessee, and a search is underway for the shooter, officials said.
Police tweeted that no suspect information was available in the shooting, which took place at Makeda's Cookie's near Memphis International Airport.
"The tragic shooting death of rap artist Young Dolph serves as another reminder of the pain that violent crime brings with it," Memphis Mayor Jim Strickland said in a statement. "My thoughts and prayers are with his family and friends."
The Daily Memphian newspaper reported that Young Dolph's cousin, Mareno Myers, said the rapper had been in town since Monday visiting an aunt who has cancer and was also giving out Thanksgiving turkeys.
"He was inside (Makeda's), and somebody just rolled up on him and took his life," Myers said.
Just last week, the cookie shop posted a video on Instagram of the rapper promoting the store's cookies, saying he returns to the store whenever he is in Memphis.
The 36-year-old rapper was born in Chicago as Adolph Thornton Jr., and moved to Memphis when he was 2, according to The Commercial Appeal.
He released numerous mixtapes, starting with 2008's "Paper Route Campaign," and multiple studio albums, including his 2016 debut "King of Memphis." He also collaborated on other mixtapes and albums with fellow rappers Key Glock, Megan Thee Stallion, T.I., Gucci Mane, 2 Chainz and others.
Young Dolph had three albums reach the top 10 on the Billboard 200, with 2020's "Rich Slave" peaking at No. 4.
In his music, Young Dolph rapped about being a drug dealer and life on the streets in Memphis. He recently performed at a concert at the University of Memphis and he has performed during the halftime of a Memphis Grizzlies game. He was admired in Memphis as a torchbearer to the city's rap legends, Three 6 Mafia.
Young Dolph had survived previous shootings. He was shot multiple times in September 2017 after a fight outside a Los Angeles hotel. In February of that year, his SUV was shot at in Charlotte, North Carolina, more than 100 times — the incident was the inspiration for the song "100 Shots." He said he survived because he had bulletproof panels in his vehicle, The Commercial Appeal reported.
Memphis officials, athletes and numerous members of the music industry posted their condolences on social media.
"R.I.P. to my friend Dolph this broke my heart," rapper Gucci Mane posted on Twitter.
Record producer Omen also posted a message on Twitter, saying "we losing too many black men to poor health, racism, jail, etc. already. we gotta find a way to heal and not add to that with our own violence. prayers for young dolph family and friends. RIP."
In a post on his Twitter account Oct. 20, Young Dolph said a doctor told him he needed some time to himself.
"I never knew what anxiety meant until My doctor just explained to me that I have it this morning," another tweet posted that day said.
In an August tweet, he said: "Still can't believe i got to where im at in life. still feel unreal."
Memphis-based rapper Young Dolph was killed Wednesday in a shooting at a cookie shop in Memphis, according to preliminary information from Memphis Police. He was 36.
Who is Young Dolph? Rapper killed in Memphis shooting
Memphis Police were on the scene of a shooting Wednesday afternoon at 2370 Airways Boulevard near Ketchum in Memphis.
Officers and witnesses could be seen in front of a broken window at Makeda's Butter Cookies, a bakery in a strip shopping center that Young Dolph had visited recently. See video of his visit to Makeda's in July.
A man who answered the phone and identified himself as the owner of Makeda's confirmed the rapper had just bought cookies at the store before the shooting.
"This shooting is another example of the senseless gun violence we are experiencing locally and nationwide," Memphis Police Chief CJ Davis said in a tweet.
Young Dolph, whose real name is Adolph Thorton Jr., was a graduate of Hamilton High School in Memphis. Last year, he donated $25,000 to the school for new sports equipment and supplies.
Young Dolph's first album, King of Memphis, was released in 2016 and peaked at No. 49 on the Billboard charts. His hits include "Get Paid."
On Monday, he was at the West Cancer Center outside Memphis with rapper Key Glock to give away 200 Thanksgiving turkeys.
Airways Boulevard, which runs in front of the scene, is reportedly backed up as far as Interstate 240. Police asked drivers to avoid the area, which is close to the Memphis Airport.
The threat of retaliatory violence and unrest had state Rep. London Lamar of Memphis, and City Councilman JB Smiley, calling for a citywide curfew Wednesday night.
I'm making the suggestion to @CityOfMemphis @MEM_Council to implement a citywide curfew tonight!!

— Rep. London Lamar (@RepLamar) November 17, 2021
Young Dolph, a star of indie rap and a cousin of the late artist Juice Wrld, was shot and killed Wednesday in his hometown of Memphis, multiple law enforcement sources confirmed to Fox13 Memphis. He was 36 years old.
The rapper, whose real name was Adolph Robert Thornton Jr, was buying cookies at Makeda's Butter Cookies at about 1pm Wednesday when a gunman drove up and shot through the window.
"The tragic shooting death of rap artist Young Dolph serves as another reminder of the pain that violent crime brings with it," Memphis mayor Jim Strickland tweeted. "My thoughts and prayers are with his family and friends."
Young Dolph: 'I've just always wanted the money.'
Young Dolph, the rapper dodging death: 'I've been targeted since I was 17'
Read more
Dolph, who has 4.4m followers on Instagram, released his debut studio album King of Memphis in 2016. The album peaked at number 49 on the Billboard 200 chart. Young Dolph followed up with his album Rich Slave, featuring the single RNB with Megan Thee Stallion, in August 2020.
Born in Chicago and raised by his grandmother in Memphis, Young Dolph, as the oldest brother of his siblings, learned early to be self-sufficient. His parents were addicted to crack, and his options for making money in a neighborhood racked by violence and poverty were limited to "hustling".
"We were in the fourth, fifth and sixth grades, seeing this living hell," he told the Guardian in 2018. "I've just always wanted the money. I told my grandma a long time ago that I was going to take my mom and dad out the hood. I was a little boy saying that shit. I ain't never really had no dad, just the street's ways, and I'm giving [people] game that their dad was supposed to be giving them, on these tapes and lyrics. My whole thing is about giving these folks the real."
Dolph started freestyling with his friends as a teenager, and began releasing mixtapes in 2008. "It can be at a spot, it can be in the trap, it can be in the car driving – we just fucking around," he told the Guardian. He built a reputation as a confident rapper hungry for success; as he rapped on In My System, off the 2017 mixtape Rich Crack Baby, "I clocked in when I was 12 and never clocked out".
"I'd rather motivate somebody all day long," he said in 2018. "To me, that is timeless music."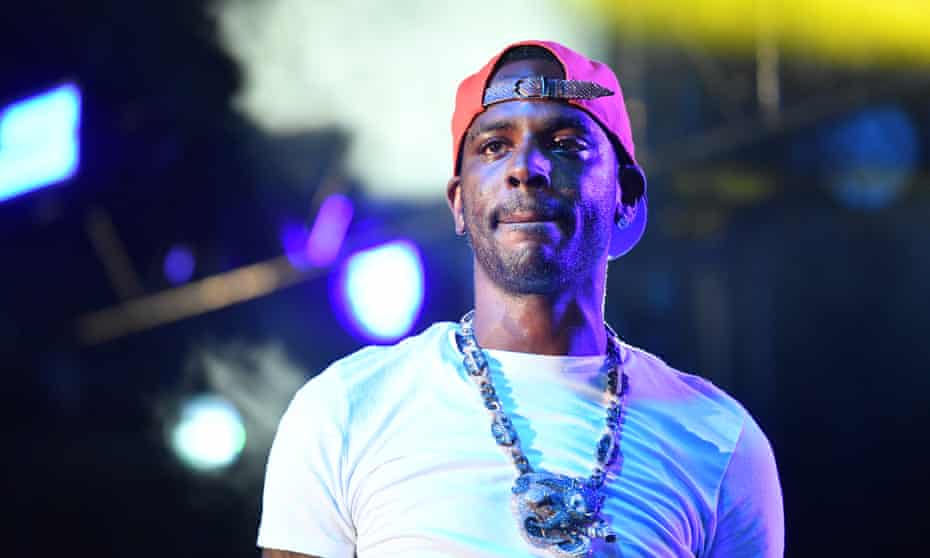 He also used close brushes with death as fuel for his music. In 2017, a beef with fellow Memphis rapper Yo Gotti devolved into a spray of bullets at Dolph's SUV in Charlotte, North Carolina, before a club experience; Dolph turned the alleged incident into promotion for his album Bulletproof, featuring the song 100 Shots. (Charlotte police told the Guardian that they counted "no more than 50" bullets on the scene, and did not establish if Dolph was connected to the incident.)