For more than two decades, Huma Abedin has been in the background. A gatekeeper to one of the most famous women in the world, Hillary Clinton, and formerly married to disgraced Congressman Anthony Weiner, Abedin has often been seen in public, but rarely heard from.
With her memoir, Both/And: A Life in Many Worlds, Abedin lays out her story — the good and the bad. The title pays homage to the multiple identities that define her. Born in Michigan, but raised in Saudi Arabia. Her mother was Indian, her father was Pakistani. And as her Abbu (father) told her, "You are an American and a Muslim."
Many children of immigrants pursue public service (myself included) for the opportunity to serve the county that has offered so much opportunity to their families. Abedin is no exception. Except that her service, which spanned the White House, Senate and State Dept., put her in a rarefied circle. She got fishing lessons from Sens. John McCain and Lindsey Graham, stayed at Buckingham Palace and celebrated the end of Eid at a White House Iftar dinner next to then President Obama. It makes it all the more jarring when she also describes an unwanted and unexpected kiss from an unnamed senator, or when a stranger comes up to Abedin in the NYC subway right after Clinton's 2016 loss to Donald Trump and asks her, "If you don't love this country, why don't you leave?"
She didn't answer the stranger then, but this book is her answer. Still, her memoir is less about the "many worlds" she inhabits, and more about the one world that has dominated her life since her senior year of college: Hillaryland.
Hillary Clinton as mentor and friend
Find a picture of Hillary Clinton — or HRC as she is mainly referred to in the book — and Abedin's usually nearby, whispering something in her ear, handing her papers, briefing her or standing somewhere in the wings watching. Her respect and admiration for HRC is clear throughout the book. As she said at one of her early job interviews, "I want to do whatever it takes to support her [HRC] and help her succeed in whatever she does." Whether it was leaving a family wedding early or extremely long workdays that left little time for family, friends, let alone romance, Abedin's focus has been to help HRC succeed because she believes in Clinton and her work.
You won't find a bad word about HRC in this book. Her criticism of the email server is heaped on James Comey and the infighting that plagued Clinton's 2008 campaign is barely touched on. Her admiration for the woman she's worked for more than 20 years, and who reportedly views Abedin as a second daughter, is on full display. "It helps to have someone in your life you can turn to for solid advice, candid insights and discretion. In my case it just happened to be Hillary Clinton," she writes.
But for all the work she did behind the scenes for Clinton from travel to policy (she hid in a trunk to evade the press — not the last time she'd do that— to set up a secret meeting between Obama and Clinton and was on a work call while she was in labor) it wasn't HRC, but her chief of staff Cheryl Mills, who encouraged Abedin, then deputy chief of staff, to have a seat at the table. "You are no longer the person waiting outside for the meeting to end," Abedin recounts Mills telling her, "You have a seat at the table. You have had one on the inside for a long time. Now it is time for you to occupy it in the outside world."
Abedin writes a lot about the support and loyalty that HRC provided her and that she returned. But you also see the large amount of pressure Abedin put on herself to never do anything that would shame or embarrass Clinton. Unfortunately, her marriage didn't help in that respect.
Finding love and heartbreak
The first time Weiner tried to get to know Abedin was in 2001, and to put it bluntly she wasn't interested, she writes. But Weiner and her boss were New York politicians and they'd see each other often. Still, it was an email he sent her in 2007 that led to a late-night meal of French fries and milkshakes. Weiner had sat between Clinton and Obama at the State of the Union, after the two had both announced a run for the presidency, and where they had had a brief exchange. Abedin knew "this was an instance where everyone was dying to know what had transpired, but no one really needed to know." Clinton would tell her if there was something relevant. Weiner said it was a crazy experience and did Abedin want to hear about it. She did. In the end, he never really said — but that conversation that started with politics then shifted to family and other topics went until 3 a.m. She found him smart, interesting and never boring, she writes. And soon that friendship became more — her first serious relationship.
She did have doubts about marrying Weiner — first, their different faiths (Weiner gave up pork and alcohol for her) and, second, her preference to remain in the background, a place where a politician's wife is not expected to be. Her family also had some doubts. Her mother, Abedin recalls, went to HRC to alleviate those doubts. Abedin writes, looking back wondering if there was one red flag, it would have been when they were discussing how and when to get married. He just wanted to marry her, she recalled. "I'm broken, he said, "and you need to fix me." At the time she thought he was said in jest.
I admit, it's like driving past a car wreck, reading about the type of relationship she wanted (the love and dedication her parents had to one another) and knowing the sexting scandals and that her emails found on his laptop would reopen the FBI investigation into Clinton's emails that await her. I wanted to look away, but I also wanted to know why she stayed with Weiner for as long as she did. The answer is simple: for her family. She was pregnant with their first child, Jordan, when the first sexting scandal broke. "At that moment it seemed to me that my husband has done something infuriating, deeply inappropriate, juvenile, crass and stupid, but not something that fundamentally altered our relationship," she writes. He sought help and they had a baby coming.
When it happened again during his run for mayor, she stood by him and spoke at a press conference supporting him. As she writes "the reaction was swift and brutal." It would also be the last time she did that. She even expected to lose her job over it, as she recalls people were telling HRC she should let her go. Clinton didn't. "She said that she did not believe I should pay a professional price for what was ultimately my husband's mistake, not mine," Abedin writes.
But for all his failings as a husband, and as Abedin learned later it went farther than sexting with some women, she writes he was, and is, a good father. He got their son ready for school and bedtime, coordinated play dates and doctor's appointments, and kept the house running while she was on the campaign trail for HRC's 2016 run. The marriage had broken down, but what finally caused her to split with Weiner was the sexting scandal that included a photo of their son and led to an investigation by child services. If family was what kept her in that marriage for as long as she did, it was the threat to her family that ultimately led her to finally leave. She talks about Weiner's problems only to the extent that it affected her. (Ultimately, she writes that's his story to tell.) The two continue to co-parent but that has taken a lot of work and therapy on both their parts and, she says, she did that work for their son.
Her bedrock of faith and family
One lesson Abedin says she was taught early on in Islam class "is that slander, gossip and exploiting people's personal weakness" was not conduct for any good Muslim. Abedin and Clinton both had their husband's personal failings aired publicly. Both also relied on faith, family and friends to get them through. And if they talked beyond what Abedin mentions in the book, you get the sense that it was, and is, no one else's business.
While most people will be interested in the politics or the scandals, it's the story of her parents — their family's history — that sheds the most light on who Abedin is. Family and faith have been the bedrock on which her values and principles have been built. And the lessons her parents taught her, from following through on her responsibilities to greeting guests, as well as her father's early death, shaped who she is today. It was something that her father wrote — a thought of the day letter that can be seen at the start of the memoir but is echoed throughout — that sums much of it up. "As an American, a Muslim and as a member of a fairly decent family, a commitment should be a commitment...You have to be fair, honest and direct," he writes. And if you can't stand the heat, get out of the kitchen. "But your exit should be graceful, decent and above board. Let others do what they will. You are responsible in the first instance to yourself, your principles, and values, and ultimately to Yahweh (Allah)."
Her faith is on full display in this book. It makes it a little disappointing, though, that she doesn't address the islamophobia that has been a concern for many Muslim-Americans head on until pretty late in the book. When her family comes underfire from a few members of Congress and there are threats made against her, it is McCain and others that speak up for Abedin. But it's the thought (and then the reality) of a Trump presidency that cause her to speak out herself.
For someone who has had to say "No" to some powerful people and who is at her core a private person, she has no trouble putting limits to how much she shares in this memoir.
Sure, there are some things everyone may be dying to know (who was the senator that forcibly kissed her, who was the "friend" that suggested she could leave Weiner and start a family later), but just because we want to know, doesn't mean we need to know.
Huma Abedin opens up about her marriage, the 2016 election and her #MeToo moment
The initial bombshell revelation in Huma Abedin's new memoir, "Both/And: A Life in Many Worlds," is that an unnamed U.S. senator allegedly made an unwanted sexual advance toward her when she was in her 20s. At the time, Abedin was an aide to then-Sen. Hillary Clinton, her longtime boss and confidante.
The particulars Abedin relates matter-of-factly: Following a large dinner attended by senators and staff, Abedin found herself outside the unnamed senator's office building. "He invited me in for coffee," she writes. "Once inside, he told me to make myself comfortable on the couch."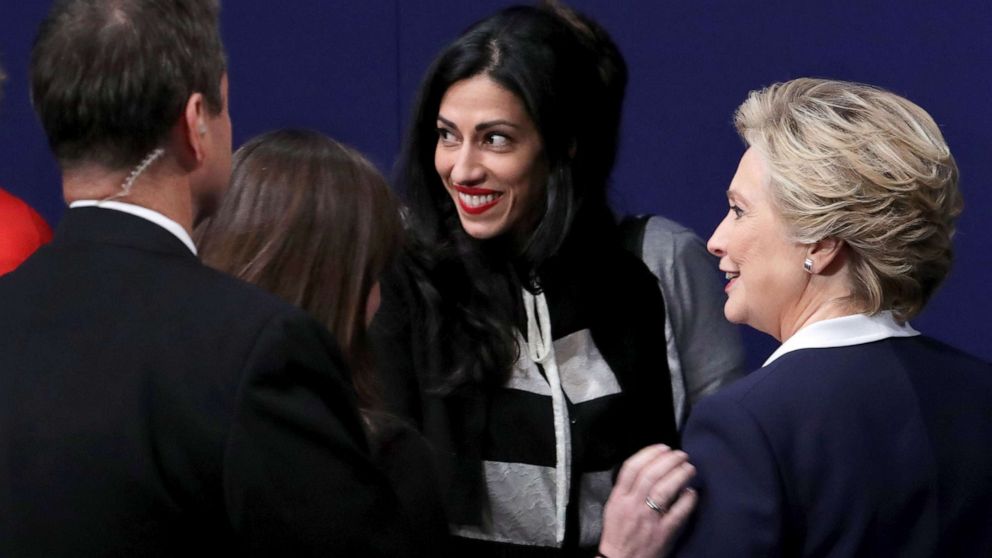 "He plopped down to my right, put his left arm around my shoulder, and kissed me, pushing his tongue into my mouth, pressing me back on the sofa. I was so utterly shocked, I pushed him away. All I wanted was for the last ten seconds to be erased."
Abedin nearly succeeded. She says she remained "friendly" with the politician and "erased it from my mind entirely" until Christine Blasey Ford's assault allegations during Justice Brett M. Kavanaugh's Supreme Court 2018 confirmation hearings, when "it was suddenly triggered," more than a decade later.
Alas, this is not a new story when it comes to young women and powerful men in Washington or anywhere. And, really, why not name the senator instead of granting him the privilege of privacy?
Al Franken has a new comedy tour. His targets? Former Senate colleagues.
"I had a blind spot about standing up for myself," Abedin writes in a mastery of understatement. Since joining "Hillaryland" weeks after college graduation and the Clinton White House, she never craved attention. "My preferred location: the background," she writes. And yet she struggles to remain there. Never mind the shenanigans of her now estranged husband, former New York congressman Anthony Weiner — they are now finalizing their divorce — she can't seem to avoid the spotlight. The book puts Abedin, who is Clinton's chief of staff, right back in it.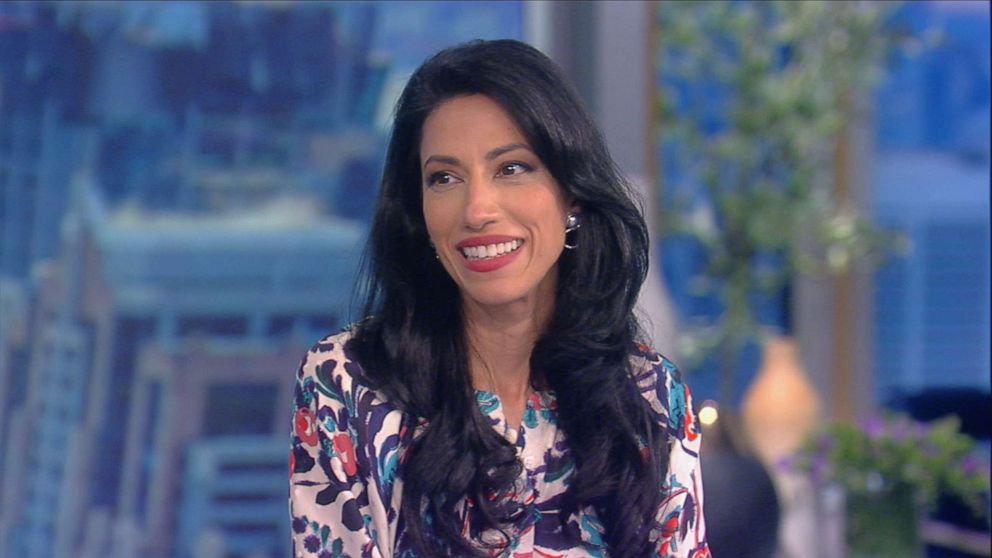 This is among the persistent themes of Abedin's life, her memoir and part of its greater revelation: Her overarching efforts to be loyal, modest and supportive to her husband and others, her insistent efforts to be a backstage player to some of the nation's most powerful players, came at her own peril — and potentially that of so many others. The memoir is candid yet soaked in denial, a cautionary tale of orthodox Good Girlism.
Recall that during an FBI investigation into Weiner's salacious text messages to a 15-year-old girl, emails from Hillary Clinton's private server were discovered on his laptop, the latter revealed by then-FBI Director James B. Comey in a letter to Congress days before the 2016 presidential election. This possibly cost Clinton the presidency and ushered in four years of Donald Trump.
"If she loses this election, it will because of you and me," Abedin told Weiner.
Days after that loss, she writes, Clinton "never once indicated that she blamed me. She said that ultimately what had happened was her responsibility, and that made me feel even worse." Abedin, in turn, blames the FBI director. "For a long time, Comey was a daily nightmare for me, and even now the thought of what he did sometimes creeps in to torture me."
Many of the salacious details in the book will be familiar to anyone who saw the uncomfortable 2016 documentary "Weiner." You'll see Abedin once again flattened by her penchant for appeasement and denial. "Both/And" is a portrait of codependency. Abedin might have called the memoir "The Good Wife," except it was already taken.
There was a continuous pileup of disasters, always of Weiner's making, which began before the couple wed in 2010 with the first of many inappropriate phone missives to other women. Weiner looked to Abedin to save him: " 'Besides, I'm broken,' he said, "and you need to fix me.' "
The book's most gobsmacking moment may be that the initial psychiatric insight into Weiner's self-immolating behavior is credited to "some narcissist issues." To which his communications adviser wisely responds, "Doesn't that describe every politician on the planet?"
In 2012, days after the deadly attack on the U.S. Consulate in Benghazi, Abedin catches Weiner in the midst of a flirtatious online chat. He tells her that she is "reading way too much into it." Instead of letting loose on her gaslighting spouse, Abedin writes that "what I mainly felt then was anger at her, at this stranger flirting with someone who had lost his entire career for having inappropriate online relationships with strangers."
Did Abedin leave him? No, she did not.
The following year, Weiner runs for mayor of New York. This would be the "Carlos Danger" sexting debacle. "Two epic downfalls in two years," Abedin writes. Then, she blames herself: "I take responsibility for encouraging Anthony to run, thinking all the madness was behind us."
Over the course of this propulsive narrative (the prose is crisp, though never remarkable, like far too many political memoirs), Abedin humbly recalls details of a life that is also charmed. Ineffably beautiful, she gets mistaken for Amal Clooney. Her looks and unshakable competence, even under crushing stress, granted her a passport to places other ambitious, talented government employees rarely travel. Oscar de le Renta insists on designing Abedin's wedding gown. She is regularly photographed in Vogue. Anna Wintour takes Abedin under her stylish wing. Much of the book, Abedin notes in the acknowledgments, was written in a cottage on Wintour's Long Island property. The longtime government servant is welcome on the Met Gala's red carpet with celebrities. In a Cinderella moment, a wealthy Clinton donor loans her an Armani frock to attend Trump's third wedding. With a rare twist of the pen, Abedin observes of the Mar-a-Lago nuptials, "I felt like I was at an Arab wedding back home."
In 2016, during Clinton's presidential campaign, with Abedin serving as vice chair, the New York Post publishes a lurid Weiner selfie that shows his toddler son next to him in bed. Children's services begins to investigate whether Abedin and Weiner are fit parents. This all happens before the Comey letter.
The following year, Abedin files for divorce the day Weiner pleads guilty to exchanging illicit material with a minor. (She later withdrew the case, determined to settle out of court.) In September, Weiner is sentenced to 21 months in federal prison. Abedin tells their young son his father is having his "timeout."
A few months after Weiner's release, after Clinton's loss, after she had filed for divorce, the New York Post struck again with "more stories about other women." Weiner was dating. This is what finally gutted Abedin. "Maybe this latest call was the wake-up I actually needed."
It was 2019, a decade after Abedin first discovered a "fawning, flirtatious, and very familiar" message on his BlackBerry, the first of so many wake-up calls that did little to wake her up seven months before their wedding.
What did Abedin do in response to the latest call? She retrieved one of Weiner's old phones in a drawer and went "pain-shopping," scrolling through the "love letters from Anthony to women not named Huma."
It took her eight hours, she writes, to read them all. "When I looked up, the sun was coming in through my bedroom window. I was still in my work clothes from the day before and the tears had long dried on my cheeks."